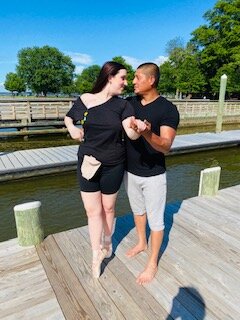 Dance has been a part of my life for as long as I can remember. I have danced for many years and have had the opportunity to teach, choreograph, and perform along the way. I have studied ballet, pointe, contemporary, and latin. In more recent years, dance has played a significant role in one of the most important chapters of my life beyond anything I could have dreamed. Dance is the reason I met, fell in love with, and married my amazing husband. He is my biggest supporter, my calm in the storm, and at my side every step of the way as I battle for my life against the monster that is chronic and incurable illness.
For over a decade I have fought my battle with IBD having been diagnosed both Crohn's and colitis. I was officially diagnosed at the age of 21 and had to endure years of trying every option of treatment available with no success. IBD was its own war giving me fevers, diarrhea up to 40x/day, strictures, nausea and many more unpleasantries. At the age of 26, after results of yet another colonoscopy, I got the news I would need a proctocolectomy with a permanent ileostomy.
Like many with IBD, my diagnosis doesn't stop there. I have additional conditions and post op side effects; I have a neurogenic bladder requiring self-catheterization, gastroparesis, cyclic vomiting syndrome, and heart and kidney issues to name a few. In addition, in 2018 I was diagnosed with a medication resistant infection in my kidneys and bladder called Klebsiella pneumonia, which alone has a 50% mortality rate.
Being faced with these health issues it's easily assumed that I would feel hopeless, angry, and depressed. While I never in a million years would sign up for this life and the illnesses I have, I have miraculously found happiness in spite of it! I give love and receive love. I'm a wife and am a mother to a large blended family I have raised through my struggles with my health. I maintain a faith in God that is never shaken but strengthened with every battle because with each one I get through, I come out stronger and more resilient then ever.
You may ask "What helps keep me going?" Dance! Dance is who I am. Dance is what brings me joy and what I love to do. Dance is what my husband and I call "our happy place." We dance as performers, we dance as students taking classes, we dance at socials and gatherings, we dance while I'm in the hospital, and we dance in our living room (especially recently while in self isolation in the pandemic). It is how we get back to ourselves after once again surviving the impossible and beating death time and time again. In being dance partners we are able to connect with ourselves and each other instead of just being "Mom & Dad" or "patient & caregiver."
Our passion and preferred genre of dance is Bachata (which is a form of Latin dance). It was the first thing we danced together and the first thing we performed as partners. While my chest port and ostomy alter my range of motion and ability to execute certain moves, it doesn't stop me from enjoying dance in whatever way my life and health allow!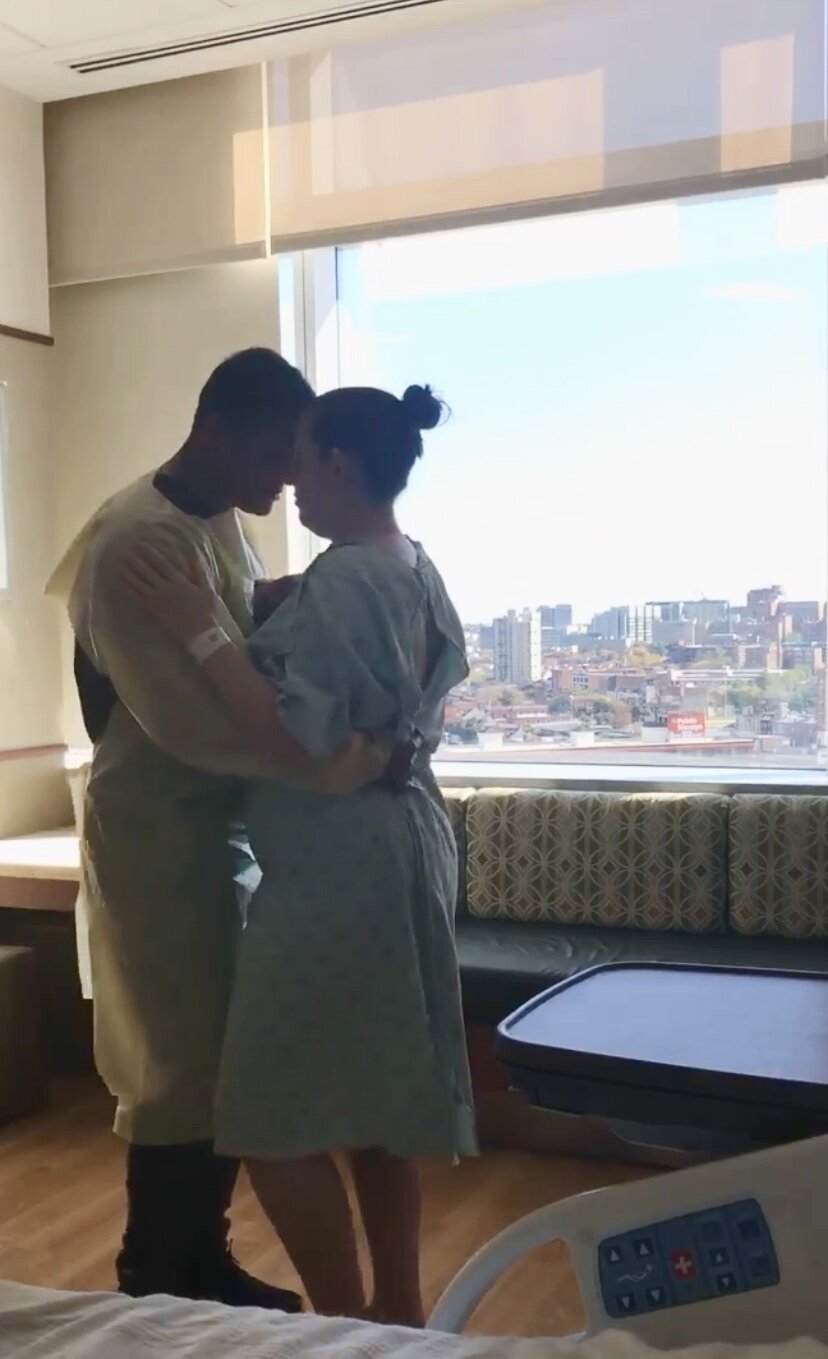 Instead of focusing on what I can't do, I focus on what I can do, and alter moves to make them work around my limitations. Bethany Hamilton said it best when returning to surfing after losing her arm, "I don't need easy I just need possible!" and that is exactly how I view dancing!
Because of my health, I can't always teach, choreograph, or perform as I would if were I not sick, but that's ok. We may not be able to do lifts and tricks like other dancers can, and we understand that. My health often takes the front seat and sometimes dance must wait. But even when relearning how to sit, stand, and walk more times than I can count or being wheelchair bound and needing the assistance of a walker, I hold on and fight knowing I will dance again.
Being dance partners helps me endure my recovery after each of my surgeries. We have been told by both PT and OT when in-patient that they can see our dance partnership cross over into how we attack sessions moving as one as the connection we have together flows over into how we handle recoveries.
My husband and I have a tradition of always having a "first and last dance". Whenever we know of a planned surgery (that for me comes with a  guaranteed long, difficult admit) or get yet another bad test result/new diagnosis, we make the time to say goodbye to dance before we start the journey of facing whatever trials and tribulations come our way. That is what we refer to as our "last dance" a way to mourn the loss of what we love and love to share together as we prepare for battle to face all the uncertainty that comes with my medical procedures. Our "first dance" is our celebration! It's a way of saying we beat it (whatever the "it" was that time regarding my health) and once again are ready to reclaim the dance floor! Its not about how fancy we move, it's simply the fact we're together, we overcame the struggle, and we're dancing again in whatever way able! We can shed the titles of "patient and caregiver" and get to be dance partners once more!
Having a goal to reach and enjoying something you love is so vital for mental health when battling chronic illness. For me it's dance but everyone is different, and it can be whatever brings you joy. I encourage others to follow their dreams and not give up! I want others to know that life and love are still possible even if you are battling illness. I found someone that met me when I already had my ostomy and loves me unconditionally despite my chronic illnesses. He has been my biggest cheerleader as I share my story to advocate for those living with chronic illness. He is right by my side for every admit and hard day just as he's there with me to embrace all the days that "I can". If there are any little girls facing illness or surgery that think they can't be a ballerina I'm here to show them they can! Illness may change what you do or how you do it but it doesn't have to stop you from doing what you love. Simply make whatever it is your own and find a way to enjoy it in whatever way your life and health allow! As the famous song goes "I Hope you dance" whenever you have a day of "I can"!
Want to see us dance?
https://www.youtube.com/playlist?list=PLmhHvqQM8Y378HNOmNxvAXqKk76W-MiVy