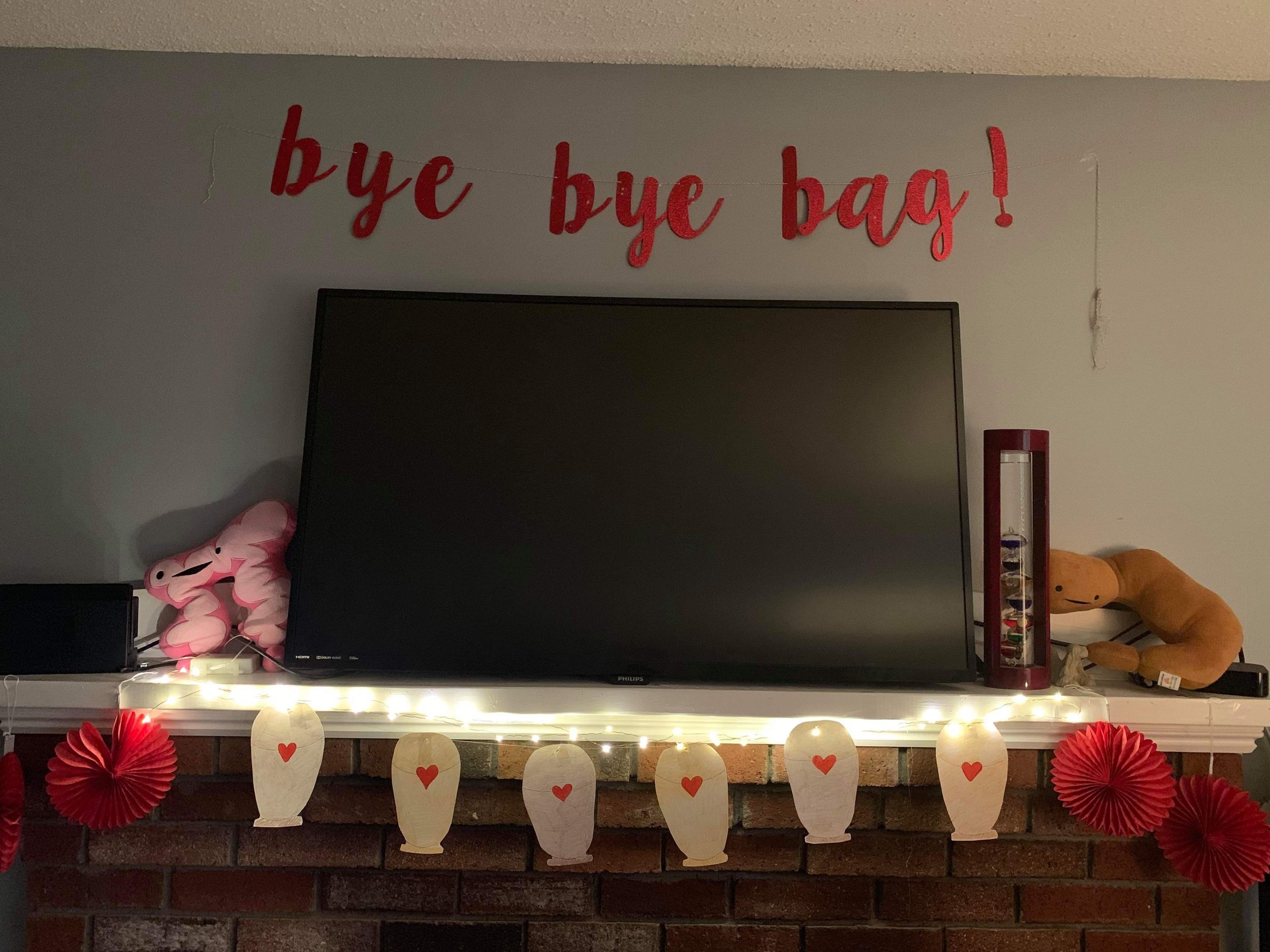 I've always used humor as a means of dealing with my illness. When I was wheeled into an emergency surgery to remove my colon after developing toxic megacolon, I reminded the nurse transporting me that I was an organ donor and that if someone else wanted my busted colon, they could go ahead and take it. That surgery ended with me having an ileostomy bag, with which came with MANY more poop jokes. My bag saved my life, and I viewed it not as a tragedy, but a celebration, and laughter was a way that I could not only cope, but express that happiness that I was alive and thriving.
I ended up having my bag for 3 years and 3 months. I waited and hoped and prayed, and finally called my doctor's office to schedule the reversal. She penciled me in for the end of August 2019, and I finally had my goodbye date. At this point, after getting involved with Girls with Guts, many of my friends had ostomy bags, and I wasn't sure if I was ready to be the odd one out with a j-pouch, especially knowing that most of them had tried a j-pouch that failed. I knew all of the possible issues that could happen because I was so involved in the IBD community, but I tried not to think about all that, and focused on happiness instead of fear. I embraced the nickname Ms. New Booty that my friends gave me, joked around about my new and improved butt, and how I hoped my bag was ready to get its eviction notice.
One day, about a month before the surgery, I was joking around with my father and brother about my reversal saying that I should throw a going away party for my bag, especially since my surgery was the day after my birthday. Then it dawned on me; I was actually going to do it. I immediately made a Facebook event, told all my friends, and started planning.
The party was going to be all red themed; red banners, balloons, cupcake icing, and a red banner that said "bye bye bag". My mom helped me order a poop emoji themed cake, and I planned to make red mimosas. I even ordered a red dress off of Etsy with the words "BAG TO BOOTY" printed on the front. I had so many ideas about fun party games; pin the bag on the donkey, a piñata with an ostomy bag that would spray tootsie rolls, ostomy bag goodie bags, the whole nine yards. I was ready for a big bash to send my bag off the right way.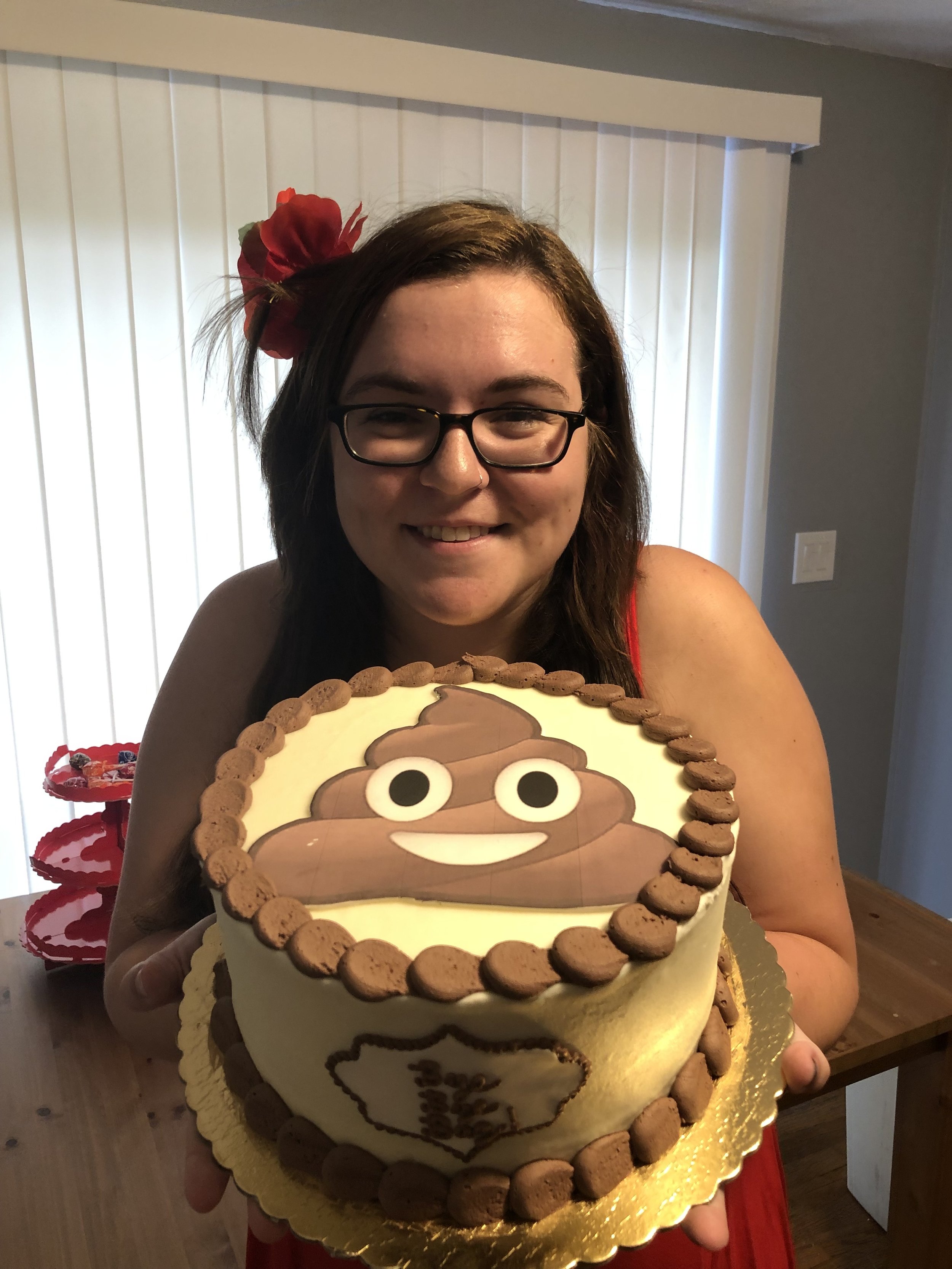 The day of the party, I woke up before the sun even rose and started cleaning and organizing snacks and drinks. I shuffled off to my last day of work before surgery, coming home early to continue setting up for the party. Many of the people I invited didn't end up making it, but I wanted to make it a damn good party for the few people that were attending. I wrote out instructions for my cranberry mimosas (limeade, cranberry juice, rum, and mint leaves, if you want to try it) and even made chocolates shaped like poops and stomas, carefully placing them into little red goodie bags for each guest. After a few hours (and a lot of help from my wonderful brother), I was ready.
Slowly but steadily, people started showing up. I had a station set up for people to sign two ostomy bags, one to keep as a keepsake and one to wear into surgery, and they slowly filled up with good luck wishes and smiley faces. We pulled up Mario Kart on my Nintendo Switch, enjoyed our drinks (maybe a little TOO much), and swore at each other as we zoomed around the tracks in our little virtual go karts. We ordered pizza, and afterwards dug into the delicious poop cake (but not before lighting some candles and singing happy birthday). We laughed, cried, shared stories back and forth and made way too many poop puns. Someone put on Elton John, and we all danced and sang. It was everything I wanted it to be and more.
A few days later, I showed up to the hospital early in the morning, shaking, wondering where the Sarah was from the other night. I even cried from anticipation; why was I waiting so long for them to call my name? And then I looked down at the shirt I wore in that morning: "Let's Get *poop emoji* Faced!". I smiled in spite of myself and remembered that in the end, maybe it wasn't all as serious as it's made out to be. Maybe it's best to just close your eyes, laugh, and leap.
---
Sarah Lemanksy has a bachelor of fine arts in photography from Lesley University and is currently a photographer primarily working with newborns. She loves to read, listen to true crime podcasts, and spend time with her three guinea pigs and bunny. After being diagnosed with ulcerative colitis in 2014, she received her ostomy in 2016 due to a bout of toxic megacolon, she recently said goodbye to her bag!