As a woman of color, I've struggled from the very beginning with inflammatory bowel disease (IBD). The diagnosis was hard enough to wrap my head around but add the elements of loss of career, loss of personality and ultimately, loss of cultural identity played into a lot of my struggles with managing my brand of IBD.
To backtrack, I was diagnosed with ulcerative colitis in 2006. Now, this was by no means a surprising diagnosis for me. My father had died of a virulent form of Crohn's that became colorectal cancer when I was 8 years old here in New York City. And his sister met a similar fate in New Delhi, India, just 3 years later. Their aunt had also passed back in Karachi, Pakistan in the 1940s from bleeding out even though she never received a formal diagnosis of IBD or colorectal cancer.
Even though it wasn't a surprising diagnosis, it was nonetheless a difficult one. After 2 years of mild colitis, I became a severe, refractory case that needed surgery. The disease derailed my career on Wall Street as I tried everything and I mean, everything under the sun to treat it. You see, in my culture, we give a lot of importance to "natural" treatment options, including Ayurveda, homeopathy, naturopathy, basically anything but the side effect-laden Western medications. And there's a stigma associated with using modern medicine. I've been told many times that I've done this to myself by eating the wrong foods or drinking alcohol or taking on to much stress, which as we all know doesn't explain the immune system dysfunction that is associated with this disease.
Trying alternative medicine was a hard aspect of my culture to overcome. I gave in because I thought my elders knew best and because my father used modern medicine (Prednisone specifically) and still passed away. But as I kept shedding pound after pound and ultimately dropped 50 pounds and was being fed by tubes, I was told this disease may kill me and that I should try biologics and most likely would need surgery.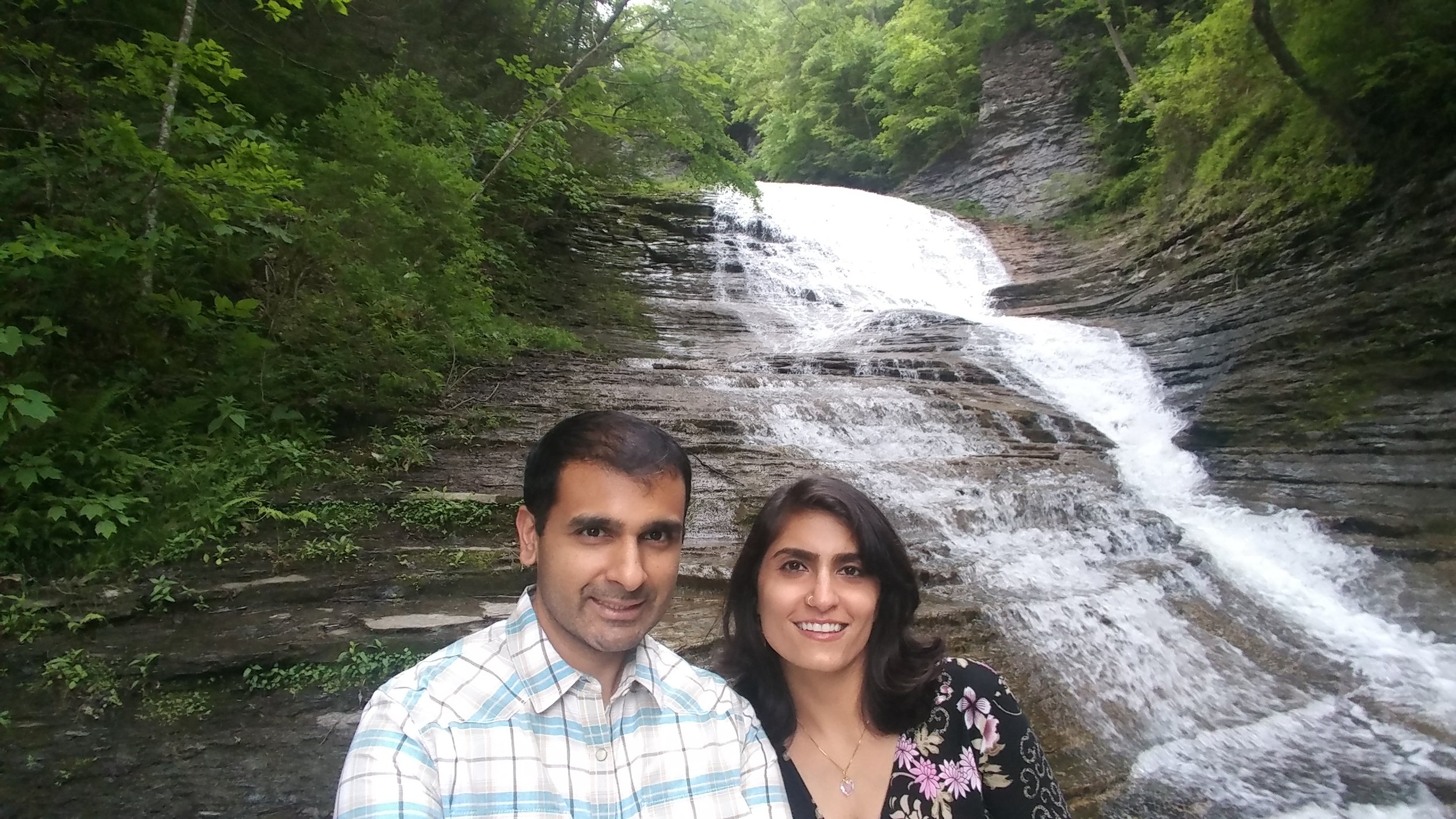 Lo and behold, by the time step therapy allowed me to use Infliximab, I was too sick to function. My hair was greying at the age of 24 and my surgeon and his chief were telling me they weren't sure they could save me. My family and our society kept telling me no one would marry me with an ostomy and that I should definitely consider a j-pouch. My surgeon took me into emergency surgery on the 4th of July in 2008. I had a total proctocolectomy and woke up to an ostomy.
My life had been saved but what I didn't know at the time was that that was only the beginning of my affair with IBD. I had a j-pouch done in a 4-stage surgery. Well before the takedown surgery, I was diagnosed with pouchitis. And in the midst of terrible bouts of pouchitis, I did end up marrying the man who stood by my side since before the first surgery.
After my wedding, I was diagnosed with Crohn's Disease, which was devastating personally and for my marriage. After many abscesses were drained and setons were placed around several fistulae, I had my j-pouch diverted. I tried antibiotics along with all sorts of off-label steroid enemas and organ rejection medications. And finally, I retried all the biologics available at the time. Nothing worked. This went on for 6 years until I finally had the j-pouch excised.
And that's when the real horror began. There were bits and pieces of j-pouch left behind and the wound on my bottom simply wouldn't close. I lost a lot of blood for several months as my surgeon worked to correct the excision surgery. During this time, my Crohn's became even more aggressive. I developed a massive honeycomb-shaped abscess in the pelvic cavity where my j-pouch was. There was a fistula emanating from the abscess that was headed for my tailbone that would have paralyzed me had I not had surgery immediately thereafter.
I got second and third opinions from the Cleveland Clinic and Mayo Clinic. Ultimately, after much anguish, I had several surgeries done to excise the abscess and the pieces of j-pouch and rectum left inside. Mayo Clinic left a wound the size of a small football on the left side of my bottom. They dunked me in salt-water baths to keep the area as clean as possible and finally attached a wound VAC for 4-5 weeks as I recovered inpatient. I had procedures every other day under sedation to clean the wound and reattach the wound VAC.
During this time, Mayo found yet another fistula, except this time it was a hole in my vaginal wall. I was told my disease was trying to continue even without a j-pouch or rectum in place. To combat worsening disease, I was placed into a clinical trial of a new biologic at a very aggressive dose and was sent back home to New York on thioprines and antibiotics.
Three years after this horror, I am here today very much alive and kicking. Do I wonder if my prognosis may have been different had I not tried all the "natural" treatments? Yes, all the time but it doesn't change that I presented with ulcerative colitis and was given a j-pouch only to find out that I actually had a virulent form of perianal, fistulizing Crohn's Disease.
I can't change the past but I can change the future. As minority populations living with IBD grow in numbers, there needs to be greater representation. To that end, I've been sharing my experiences as I often do to encourage minority patients to consider modern medicine even though they might hesitate given the risk profile. Although diet and nutrition are extremely important in IBD, so is medication and treating to target early on in one's disease journey. And as many IBD specialists say, "untreated disease is worse than the side effects of medications." And that, as a minority patient, is the main reason why I became a patient advocate: to share my experiences to ensure that future populations get the care they need.
As I often say in my blog, "Own your Crohn's, own your ostomy, own everything that might not fit sociocultural norms and give it a voice. Because what knocks us down can make us stronger, fiercer and more united if we let it."
Tina is a Crohn's patient who has accumulated several autoimmune ailments over the years. She is an avid blogger and advocate for chronic illnesses, disabilities and life-saving ostomy surgery.
Her interests include public health policy/advocacy in addition to diversity and inclusion to voice the concerns of those suffering in shame and in silence. She's been published widely in Everyday Health, Thrive Global, Oshi Health, IBD News Today, OstomyConnection, Brown Girl Magazine, The Mighty, The Phoenix Ostomy Magazine and The Teal Mango. Tina's blog, Own Your Crohn's, was recently named a top 10 IBD Blog by MyTherapyApp.com.
Tina's aim is to normalize the rhetoric around chronic illnesses and disabilities and to help patients own their ailment to live fuller, happier lives.