This post is brought to you as part of Girls With Gut's Community Connection in collaboration with Tina Aswani-Omprakash of Own Your Crohn's.
"You have Crohn's Disease." That's what my gastroenterologist told me after my first colonoscopy in 2003. I was 16 years old, and nobody in my family, except for my mom who is a doctor, had heard of the disease.
For the last 18 years, I have experienced multiple hospitalizations, taken a plethora of medications, and contended with related symptoms and illnesses such as extreme weight loss, loss of hair, C. difficile, osteoporosis, and blood clots.
I am a child of immigrants from Egypt, and grew up with a tightly knit Arab Muslim community in Minnesota. I absolutely loved it (still do) when we all got together for picnics, holidays, and gatherings. We care deeply for one another, and there have been times when that has been both positive and challenging throughout my health journey.
Egyptians have high standards with obtaining a high-end degree and a stable, respectable career. I was never a great student, and college made things harder because I was in constant pain, anxiety, and exhaustion due to my IBD. I was put on academic probation but kept going because I did not want to feel like a failure to my family and the community. I eventually graduated with a B.A. in Child Psychology and went on to work in youth mental health and social services for several years. It was emotionally and physically draining, especially since I was dealing with low energy and anemia at the time. I had to push myself a thousand times harder than everyone else just to keep up with the workload. I felt like it was never enough. I have communicated my need for a break, but the idea of temporarily quitting is such a foreign concept in my family and the community. I developed this internalized ableism by thinking since I have never had surgery, strictures, or other complications from Crohn's, there was not any reason for me to slow down.
I experienced two major flare-ups that resulted in continuous hospitalizations. The first time was when I was in undergrad and was so frustrated with my health that I didn't see the point in taking medication anymore. The second time was in 2015 when I was temporarily uninsured in between jobs, and couldn't afford treatment. During both flares, I experienced major weight loss, hair loss, weakness, and mood swings. Overall, I was not well, and it was harder when I was often reminded of it by others in the Arab community. The majority did it with misguided attempts of showing their concern and making me feel better, but after hearing so many jokes and statements such as, "You are so skinny, you could easily break" or, "Be careful, Basmah, the wind could pick you up," I felt unattractive and unhappy.
I eat a whole foods diet and have to stay away from certain foods that trigger my Crohn's symptoms. That means I often refuse food that is offered to me, which is considered rude in Arab culture. Some people are understanding, but there are a few who often tried to get me to eat their food anyway, saying stuff along the lines of how something can't hurt me or that it is all in my head. When I was flaring, the comments regarding my diet were related to my weight loss. I was taught to be a nice, quiet girl who should not talk back to anyone, especially the elders. Unfortunately, that meant I could not stand up for myself. I could not talk about my condition with my family or friends because it was unusual to complain about being too skinny, especially when it was perceived that I had a choice with what I consumed. I became very distant, avoiding gatherings and people altogether, and began to develop body and emotional issues.
There are some positive things I have encountered as well. As I have stated above, Arabs are very caring and hospitable. Each time I was hospitalized, families and friends visited and stayed for hours at a time. They brought gifts for me and food for my family. It often felt like a party in my hospital room. My friends were also respectful when I became anxious and could not handle crowds in small spaces, so they waited until I was comfortable at home to hang out. It's been a while since I have been very sick, but I will always appreciate those who have been there for my family and me.
I signed up for the Crohn's and Colitis Foundation's Team Challenge half marathon in Dublin, Ireland in the summer of 2015. I had to fundraise, so I used the opportunity to share my story on social media for the first time. I felt vulnerable and afraid at first, but the amount of support I received from the Arab community was overwhelming. Everyone stated how proud they were of me, and donated so much money that I was recognized as one of the top fundraisers in the team. I would not have been able to go to Ireland without them, and that trip provided the opportunity to travel on my own to a gorgeous country with a rich history, connect with other people who have Inflammatory Bowel Disease, and the chance to start opening up about my health. It gave me the confidence and joy to participate in Girls with Guts' retreats, and continue sharing my story on social media.
The most important thing that my family and community taught me was that I do not need to hide my Crohn's. This is unusual as Arab culture tends to be discreet about health issues, especially with women. Women with chronic illnesses and their families are often concerned that they will be unable to have a family life because others will view them as a burden. Thankfully, that has never been the case for me. However, between getting sick in my teens, constantly pushing my limits, and deflecting all of the hurt and isolation I have experienced over the years, I still have a bit of healing to do. If there is one thing I want able-bodied Arabs to understand, it is that we have a disease that impacts us emotionally as much as physically. Being present during a crisis is important and appreciated, but words have lasting effects on our well-being.
So how do I own my Crohn's? By recognizing that Crohn's may be a part of me, but not all of me. Yes, I have had it over half my life, and yes, I have needed to change some plans along the way. Nevertheless, I am still a proud Egyptian Muslim who deeply cares about the well-being of others. I appreciate close friendships, am family-oriented, adore my nieces and nephews, enjoy traveling and sightseeing, am happy sitting on the couch underneath a blanket reading a good book and a cup of tea and try activities involving heights no matter how much they freak me out. I happen to have a disease, but this is ultimately who I am. And I am proud of it.
Follow Basmah on Instagram: ThisImmuneLife
---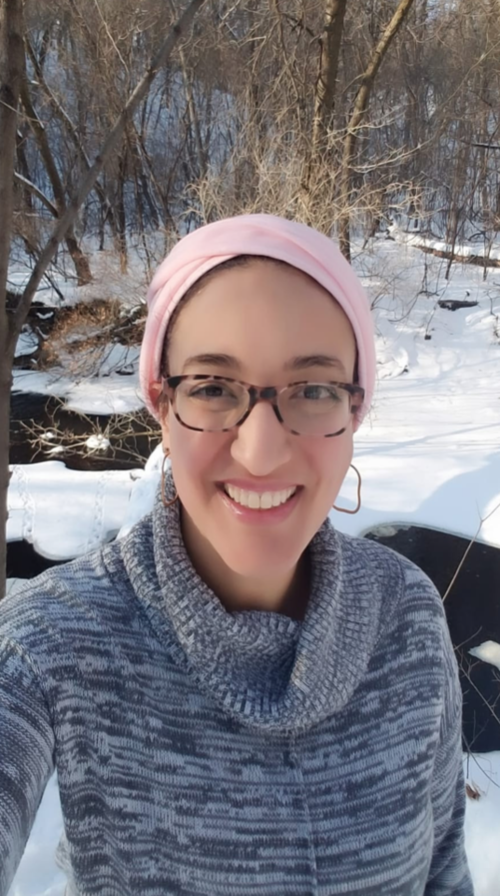 Born and raised in Minnesota, Basmah is a first-generation Egyptian-American Muslim. In 2010, she earned her B.A. in Child Psychology from the University of Minnesota and has worked with youth in a variety of settings. She has always been passionate about helping people live their best quality of life, and is currently working toward becoming a Wellness Coach for teens and young adults with chronic diseases.
Basmah became an IBD warrior when she was diagnosed with Crohn's Disease in 2003. It has been a rollercoaster ride ever since, but she has gained much appreciation for all of the experiences and people she encountered along the way. Basmah joined GWG in 2016 when she attended the retreat in Pennsylvania. She has formed incredible bonds with the sisters and is very excited to be a part of the Diversity Committee!
In her free time, Basmah loves to weight-lift, read fantasy novels, take Arabic classes, binge watch anything from Chopped to Forensic Files, cook gluten-free meals, and travel – especially when she gets to visit and play with her nieces and nephews!