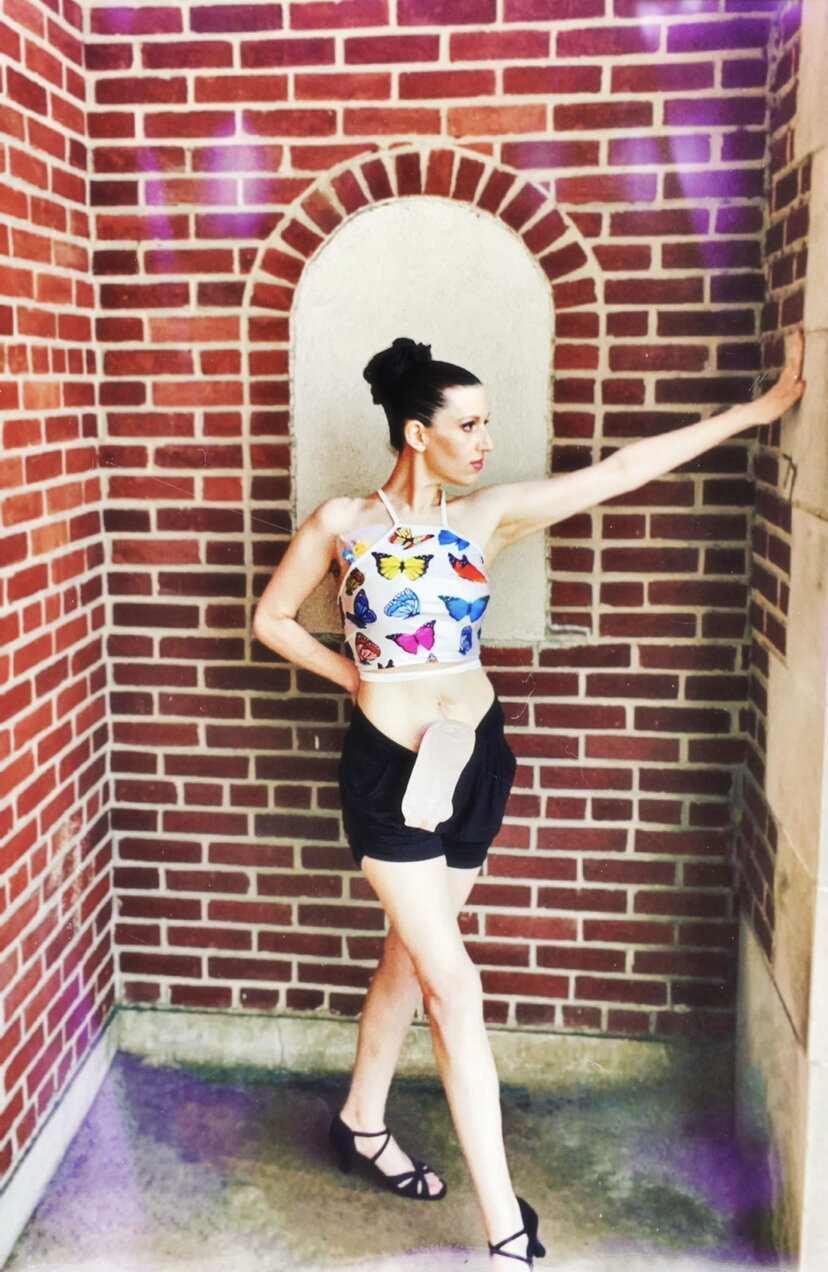 Elegance, beauty, confidence, and rhythm; these are some words used to describe a female Latin dancer. Chemistry, passion, sensuality; these words often come to mind when describing or watching a Latin dance couple. Each genre of dance comes with its own culture. Unique dance shoes, music, and certain beats accompany each genre, and of course, that exists within bachata. Nationally and internationally people congregate to study, perform and/or socially dance bachata together and there is absolutely nothing like it! Being a bachatera (a female bachata dancer), and 50% of a bachata dance partnership with my husband Marcos, I get to experience it all!
Ostomy bag, chronically ill, surgical scars, and chest port; These words are not typically thought of when one thinks of a bachatera. That is EXACTLY why my husband and I  use our love of dance and vlog (@pestanalife, FB/YouTube  Instagram) to bring awareness and challenge the typical dance partnership in hopes of changing the dialogue about having an ostomy and contribute through our platform. We want to end the stigma of what one is or isn't supposed to be as a woman and as a dancer in the Latin dance world. I have had my permanent ileostomy for a decade and have been dancing since I was a child so these are both integral aspects of my life and it is my passion to change the common misconceptions society has towards them.
I was stunned to find zero results when searching online for bachata dancers with ostomy bags! I found amputees, hearing or visually impaired dancers, patients dancing through chemo, and even a Latin dancer in a wheelchair. In these modern times where differences are embraced and inclusivity is encouraged, we have come so far, yet there are so many areas that need more advocates brave enough to step forward and share their truth. We have since made it part of our mission on Pestaña Life to use our artistry, love of dance, and love for one another to bring awareness using the various diagnosis and medical devices/differences I have.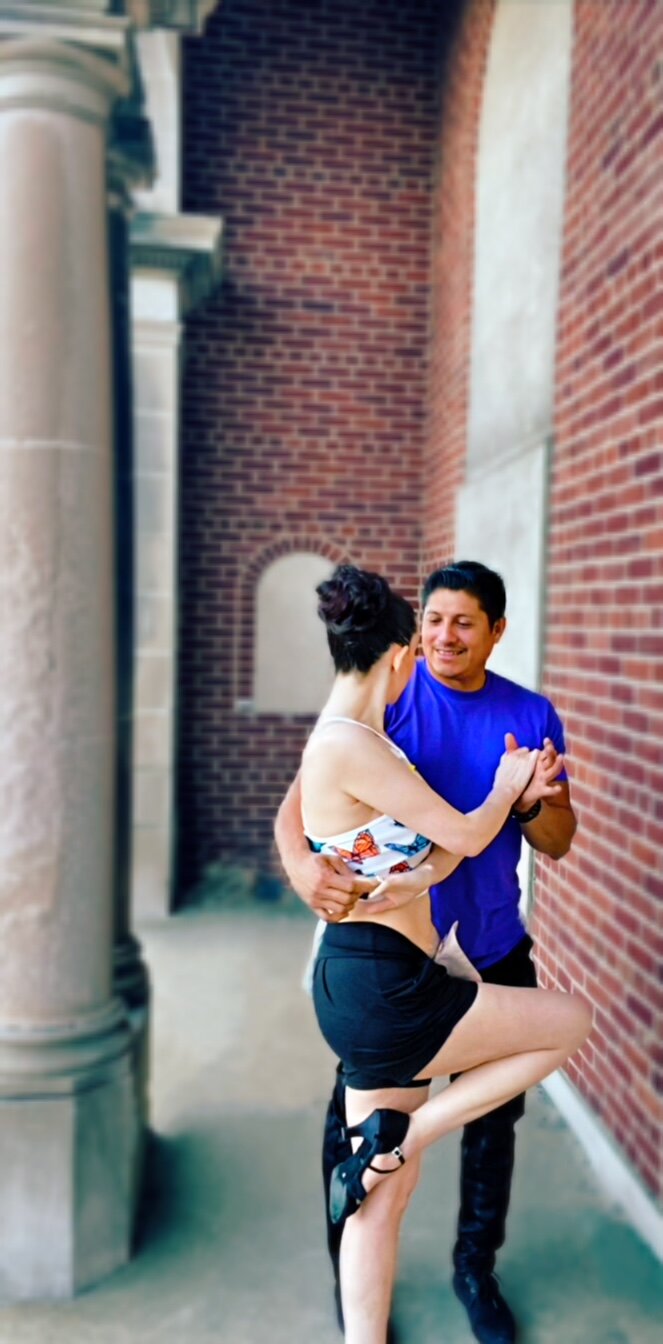 Maharishi Mahesh Yogi said "Don't fight darkness- bring the light and darkness will disappear." We create special pieces hoping to encourage and inspire others to embrace what makes them uniquely who they are. As a couple on and off the dance floor, we hope our love can also give hope to others struggling to accept any outward changes brought on by illness or surgeries. If they see the passion, connection, and genuine affection we share for one another as husband and wife, we hope it sends a message that having an ostomy bag in no way limits us from having loving relationships.
I personally am very accepting of my outward appearance and "battle scars" gained from the many surgeries I've endured. I am blessed with a loving, supportive husband who embraces all that I am and all my baggage (no pun intended). He was and is my biggest supporter in sharing my journey and advocating for others who are chronically ill and/or have an ostomy.
When the only other option is defeat or death, to choose to fight, knowing that you will endure much suffering takes the strength of a warrior. It's all about perception. You can choose to see all the imperfections or you can look back at everything that was supposed to defeat you and did not as a reminder of how much you have already overcome. That is what allows me to feel confident and uninhibited to still look and feel the part when dressing bachatera style to attend a social or perform exactly as I am: scars, bag, and all else! I strive to find pieces that are functional with my ostomy that also embody the style and flare we bachateras love because looking the part helps us get into our performance and gives us that extra boost to give our all on the dance floor!
When explaining the motive behind our awareness pieces, we always say "it has everything and nothing to do with the bag." By this, we mean when we dance with my ostomy, chest port, and at times with my TPN pack on display. Sure, they are visible but if you are more drawn to the music, scenery, wardrobe, and passion between us and the dance itself then our job is done! There is no message needed as the entire piece is the message.
Sure, my ostomy or other medical devices are there, and pending wardrobe choices my multiple abdominal surgical scars are also visible at times. But the hope is that my openness can encourage others to proudly step forward and embrace their truest selves. We hope one day in the years to come that all these things that are just breaking through the surface now become normalized.
In the words of Ziad K. Abdelnour, "there's no need to be perfect to inspire others. Let people get inspired by how you deal with your imperfections."
To view Marcos and Theodora Pestaña's newest awareness bachata dance from their Vlog: https://youtu.be/jk4GXS4dSIo.
Follow Theodora & Marcos on FB & Instagram: @pestanalife
Follow Pestana Life /La Vida Pestaña on YouTube: https://www.youtube.com/channel/UCCK-LQg6w4T87JXwNcACliw/about
---
Theodora was diagnosed with Crohns-Colitis in 2007 and got her permanent ileostomy in 2011 at the age of 26. She also suffers from cyclic vomiting syndrome (cvs), a post-surgical neurogenic bladder requiring self catheterization, gastroparesis, and several other conditions.
She has been battling medication resistant infections since early 2018-present day. She has a stent placed in the left kidney and has a chest port since the summer of 2018. She is on TPN and clears as her sole source of nutrition that she manages at home with the assistance of home health care. She is a momma bear to a large, blended family with children from early elementary-high school. Similar to the classic "Brady Bunch", they like to refer to their family as the "Pestaña-Bunch." Dancing since childhood, she has studied, performed, taught and choreographed various genres of dance. She even met and fell in love with her husband as dance partners. Latin is their preferred genre of dance; especially Bachata!
Theodora is very passionate about educating and advocating for others like herself with chronic, incurable illness and/or medical differences. Having a degree in Spanish, and being a certified Spanish-English interpreter, she and husband Marcos, have a vlog entitled "Pestana Life-La Vida Pestaña." Where they strive to give a real, unfiltered look into the life of a dance couple dealing with illness and all its challenges. They strive to offer encouragement and support to others facing life with illness or whom have a loved one does by sharing patient experience and info along with using their love of dance to inspire others to seek joy amidst the trials life can bring. Both being bi-lingual, they offer dual Spanish-English content on all their platforms in hopes to bring awareness and accessibility to the Hispanic community. In addition to her personal vlog, and being a blogger for GWG, Theodora is also part of the newly founded GWG Community Connection which launched early 2021. She is passionate about using her "pain for a purpose" so others facing similar situations know they are not alone with hopes to normalize these topics for the generations that will follow!