I am a huge foodie. Before being diagnosed with ulcerative colitis, my favorite thing to do was to experiment with new flavors and ingredients. I always had treats to hand out to friends and coworkers. All that changed when I got sick, and my diet slowly became more and more restricted to the point that I HATED meal planning. I spent hours drooling over scrumptious Pinterest layouts I couldn't eat. And forget about trying to get takeout after a rough day.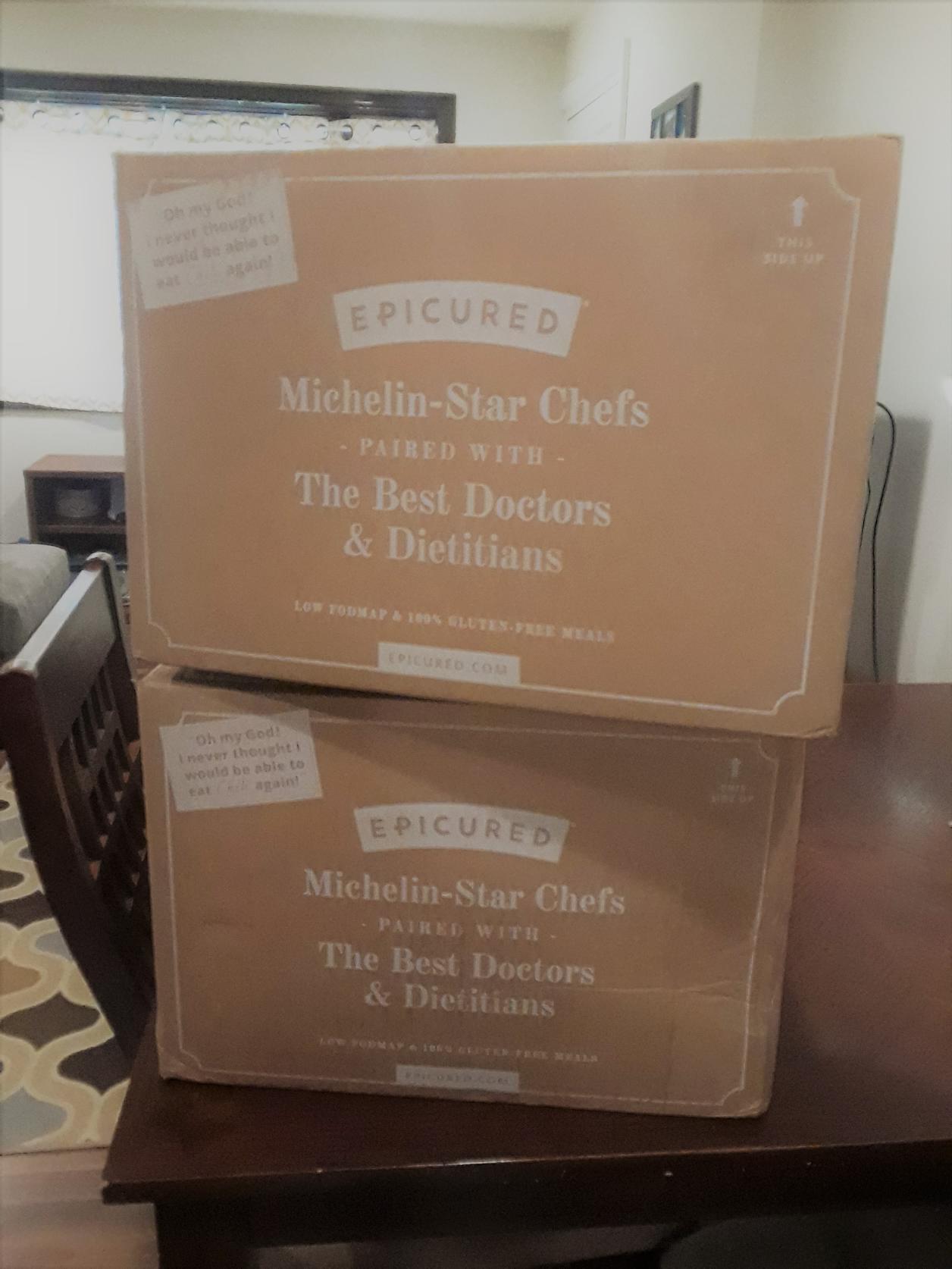 Enter Epicured, a new food delivery service designed in collaboration with doctors and dieticians to be good for the gut. Their menu is completely low FODMAP, meaning it eliminates or reduces Fermentable Oligosaccharides, Disaccharides, Monosaccharides, and Polyols. These are foods that are poorly absorbed and tend to lead to gas, bloating, diarrhea, and a general reenactment of THAT scene from Bridesmaids.
When I had the opportunity to try these foods, I jumped at the chance. But to be honest, I wasn't expecting much. Could a prepackaged food that fit my absurd diet really taste good? Still, I broke into a Cheshire cat grin and skipped up my front steps when I saw the boxes and knew I didn't have to cook dinner that night. Then I full on giggled like Ron Swanson with a steak when I surveyed the delicious-looking entrees and snacks. So of course, I dug right in! I was happy with all of it, but I'll just mention the standouts here.
Most unexpected:
Grab & Go Gazpacho
I don't know about you, but I like my veggies hot and at least slightly chunky *wink*. I've tried gazpacho before and felt like I was eating tomato soup straight out of the fridge. So I was very pleasantly surprised when I took my first suspicious sip to find that this was quite refreshing.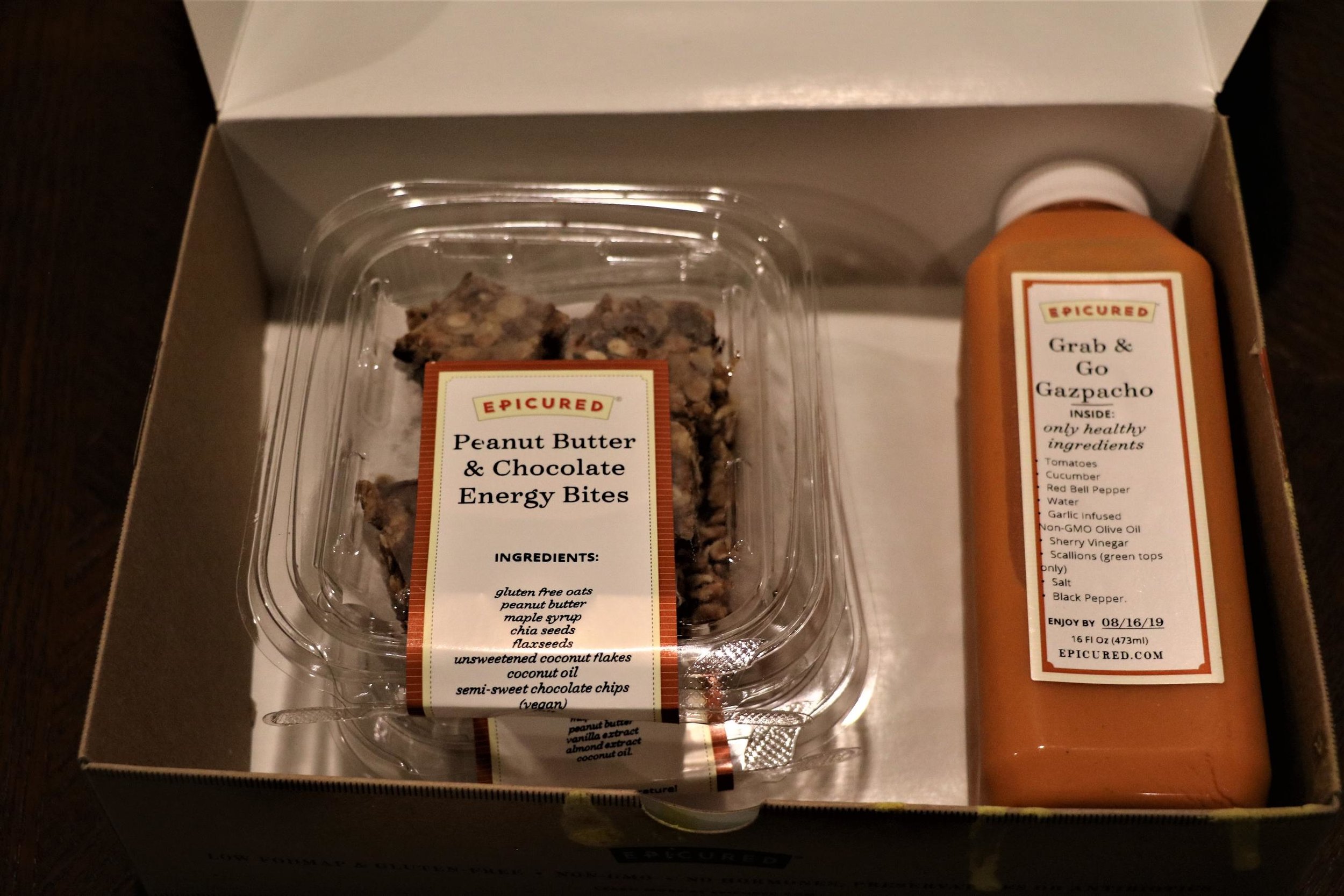 The cool peppery flavor mixed with a vinegar tang makes this a great summer drink. It is nearly all tomato and pepper, though, so sip with caution if these veggies give you issues.
Favorite Entreé:
Coconut Shrimp Laksa with Jasmine rice
If you love Indian flavors but tend to steer clear because spice does you wrong, then this is the dish for you. It packs a ton of flavor with all the anti-inflammatory benefits of ginger and turmeric without the swift kick in the pants. They did not skimp on the shrimp, and I appreciated that the vegetables were left in large enough chunks to be easily identifiable for anyone who may not wish to eat a certain kind *glares at celery*. I am not ashamed to say I did a little dish licking here.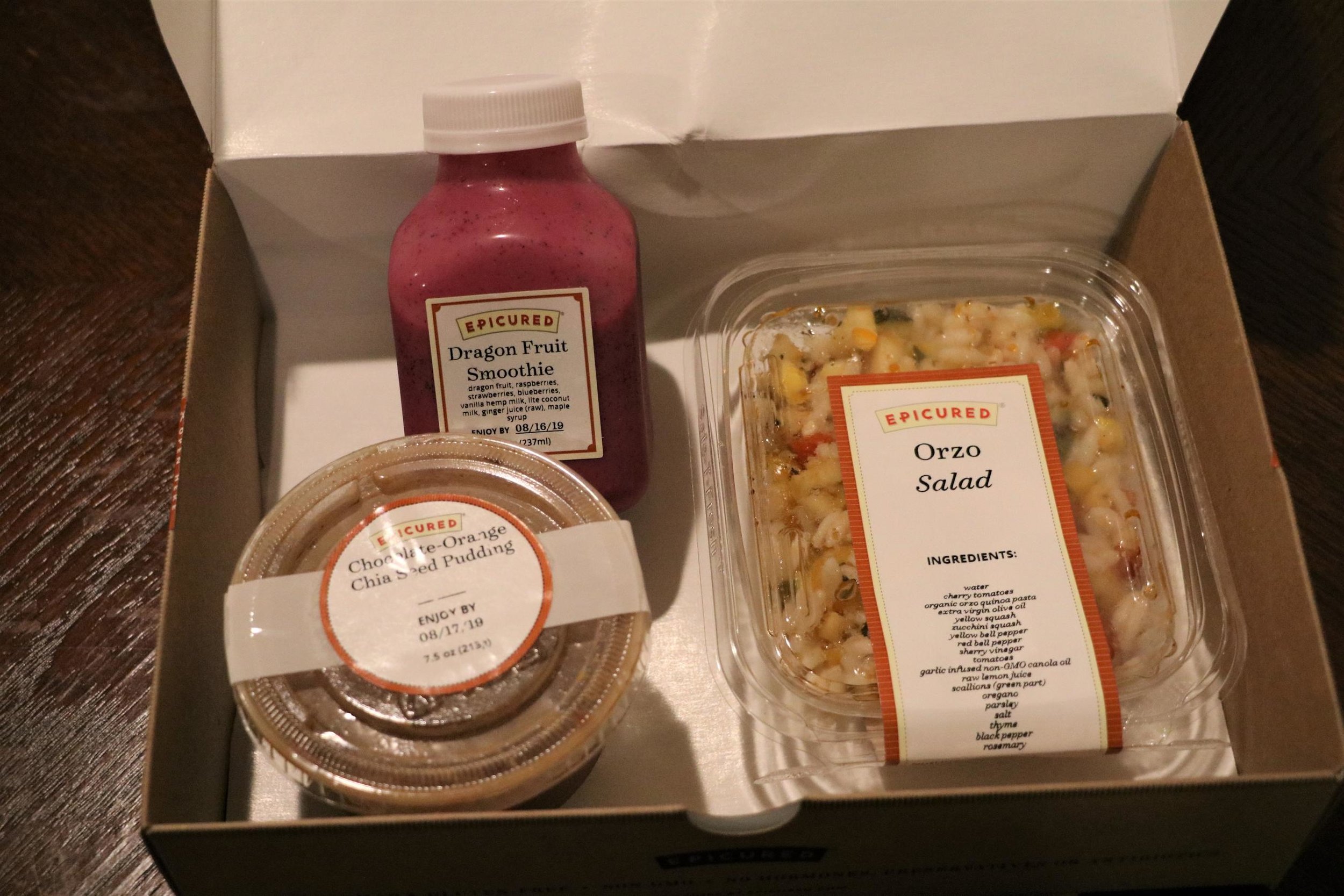 Best Thing Ever: Dragon Fruit Smoothie
Can I just say YAS! Absolutely delicious. I can taste each of the fruits, and I get the lovely tang of ginger at the end. I rarely order fruit smoothies because the large amount of seeds is worrisome, but this was blended so smoothly it wasn't a problem. My only issue with this was the size. I don't want 8oz. I need at least 80oz. You know, dragon sized.
Honorable Mentions:
Hawker Chicken Lettuce Wraps (I ate lettuce, it was delicious, and it didn't kill me!)
Chicken Tikka Masala (It tasted like my toned-down homemade version. Which is good, but less titillating than others.)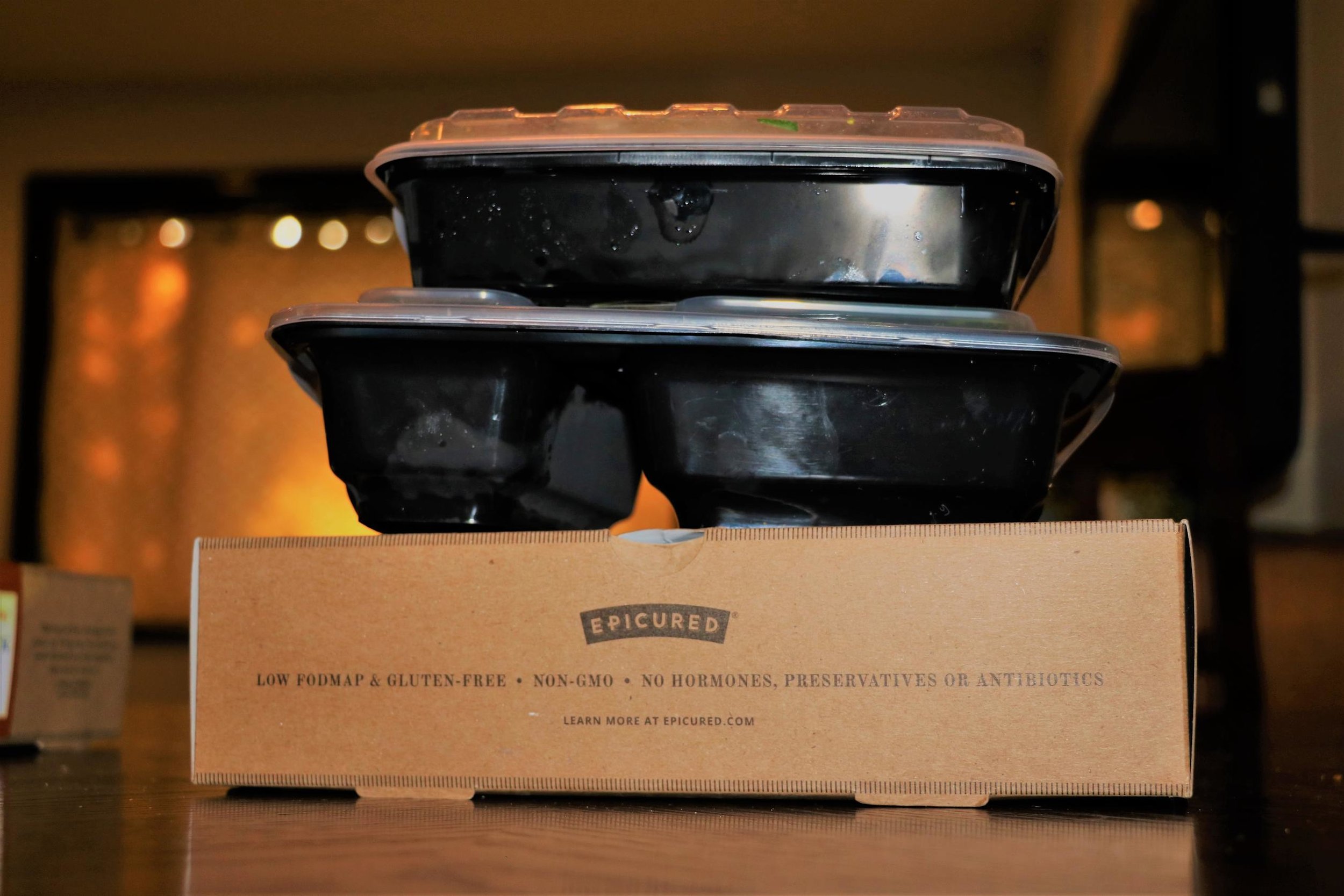 Almond & Cranberry Energy Bites (Very tasty for a low-sugar snack. Surprisingly, I even had no issues with the small amount of chia and coconut included.)
I stepped out of my comfort zone to eat some of these dishes, but by the time I finished I felt great! My SIBO-besieged tummy was the calmest it had been in ages. I am definitely planning on giving low FODMAP a more serious go, as this was a truly enlightening experience for me. As for Epicured itself, at an average $15 per entree, a weekly subscription may be a little high for my current food budget. But if you usually dine out a couple times a week or could use an evening or two without food prep, then this is a solid option. Epicured lists every ingredient on their website, so it's very easy to pick foods that you know will work for you. They even introduced me to foods I thought were off the table for good. I also had some issues with the packaging of my first box, but the team was very helpful and immediately offered to send a replacement.
If you're looking for a meal delivery service that caters to grumpy guts, or if you just want to learn more about FODMAPS, check out Epicured. They made me excited about food again!
---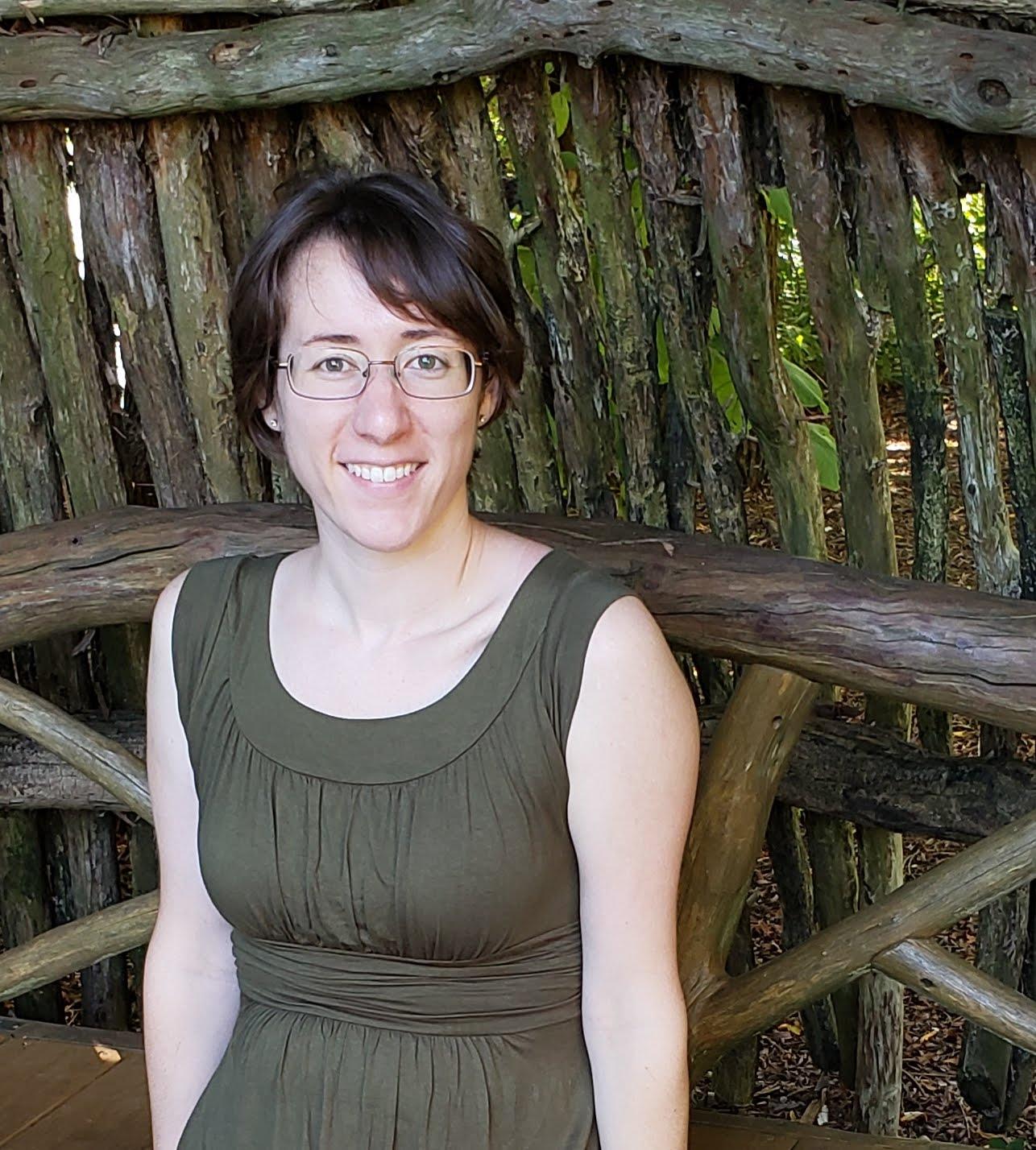 Karen Haberland lives near Philadelphia, PA. She is an engineer at a small medical device company, where she helps develop new methods to prevent surgical infections. She was diagnosed with ulcerative colitis in 2015 while pursuing her master's degree. Ever since, she has been determined to fight with fun and food. Her free time is spent watching The Great British Bake-off, trying to recreate their delicious masterpieces with the help of her awesome boyfriend, and hiking off the calories.